KINGDREM HYBRID BIT INTRODUCTION
KINGDREM HYBRID BIT INTRODUCTION
لازم در حال حاضر تنها شرکت­های BAKER و KINGDREAM توانایی تولید این سری از مته ­ها را دارا می­باشند و تولید این مته­ها با تکنولوژی منحصر به فرد و کارایی بسیار بالا در اختیار این دو شرکت می‌­باشد.
KINGDREM HYBRID BIT INTRODUCTION
Concentrate more than two or multiple rock breaking methods on one type of bit, to adapt complex formation and special drilling technology;
Hybrid rock breaking technology will be important development trend for oil drilling bits.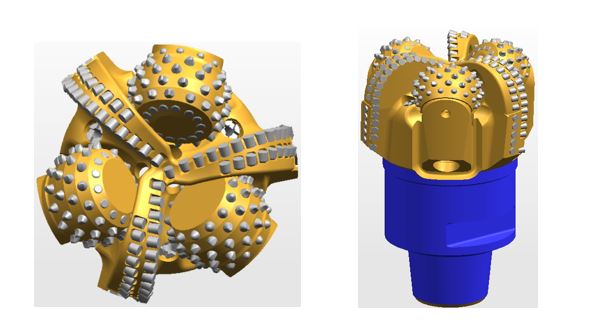 Size range: 8 1/2 inch -17 ½ inch
Applications:
1)Hard plastic with alternate layers of soft and hard rocks
2)Directional well
Technical features:
1) Mixed cutting structure: mixed rock drilling actions of shear cutting by PDC cutters as primary mode and pre-crushing by cutters on rolling cones as secondary mode, so as to realize fast drilling in hard interbeded formation.
2) Design of symmetric structures with active cutting structure of cone and PDC fixed cutting structure:
Small torque, stable tool face, and good directional effects.
3)Bearing technology with metal seal of insert teeth cone and penetration technology is limit ed by PDC cutters, in order to ensure bit life.
Typical products: KPM1622、KPM1633、KPM1642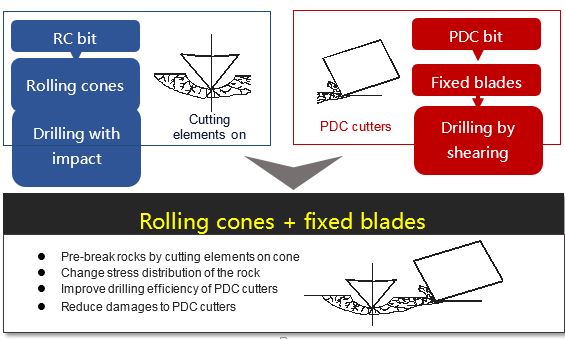 تمامی خدمات و محصولات این سایت، حسب مورد دارای مجوزهای لازم از مراجع مربوطه می‌باشند و فعالیت های این سایت تابع قوانین و مقررات جمهوری اسلامی ایران است.